For Employers
Increase the Value of Your Team
Optimizing cash resources, maintaining liquidity, ensuring access to short-term and long -term financing, judging capital investment decisions and controlling exposure to financial risk are pressing issues facing most organizations. Certified Treasury Professionals (CTPs) demonstrate mastery in these and other critical areas. Teams and organizations have confidence in a CTP's well-rounded understanding of the treasury function.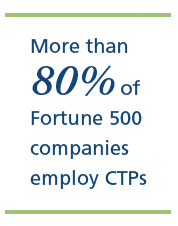 Employing CTPs is recognized as a best practice for finance and treasury departments. That is why more than 80 percent of Fortune 500 companies employ CTPs. And why employers who are faced with critical staffing decisions look at the CTP certification as a way to identify top-level talent. It is also a key differentiator for professionals working in the competitive field of corporate treasury and finance. In fact, many organizations actively seek people who are certified and list the CTP certification as either a required or preferred qualification.
How Do CTPs Benefit Your Organization?
Because the CTP certification...
Measures by means of a certification exam, the attainment and application of standards in the treasury management discipline
Demonstrates broad corporate treasury management competency
Enhances professional knowledge, skills and abilities in corporate finance
Prepares finance and treasury staff for greater on-the-job responsibilities
Reflects relevant expertise in an ever-changing market
Increases the value of your team
Helps to stay current in the profession with continuing education requirements
Nominate Your Employees
Encourage your staff to earn the CTP certification and increase the value of your team. Simply fill out this form and we will send your employees the Certification Candidate Guide, the complete guide to the CTP and certification process.