Exam Development
AFP facilitates an update of the CTP exam every three years following generally accepted best practices for credentialing agencies and The Standards for Educational and Psychological Testing. AFP employs professional testing experts to assist in all aspects of the exam development process to ensure psychometric soundness and legal defensibility of the program. The success of the CTP credential is a function of active practitioner involvement. Practicing CTPs are involved at every stage of the process.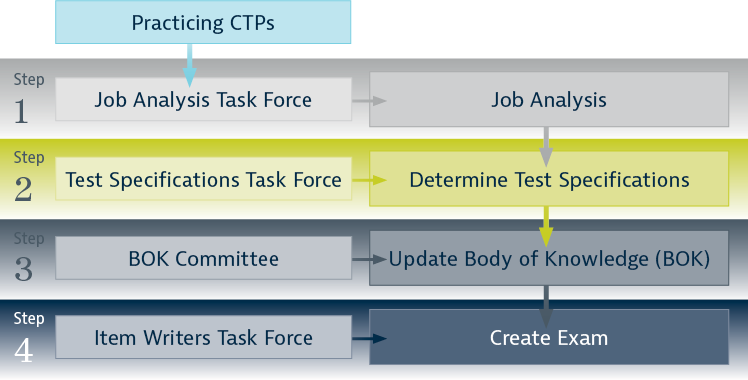 Job Analysis
The job analysis process provides a systematic procedure of identifying and validating the performance domains of the treasury professional and the knowledge and skills that are necessary to execute job responsibilities. Subject matter experts develop a list of job tasks and responsibilities, from which a survey is developed. The information derived from the analysis provides the basis from which the examination specifications are developed. Nearly 1,000 survey respondents validate the job tasks and responsibilities and rank the importance of each.
Test Specifications
Using the job analysis results, a committee of volunteers with extensive field experience, develop the specifications (number of exam question items per knowledge domain) for the CTP examination.
View the 2023-2025 CTP Test Specifications with KSAs
Body of Knowledge
A major outcome of the job analysis and test specifications processes is an updated CTP Body of Knowledge (BOK), published as Essentials of Treasury Management, Seventh Edition. Subject matter experts work with an author to write and edit the BOK. It represents the scope of knowledge needed for basic competence in corporate treasury management, with "basic competence" defined as the baseline level of knowledge and skills required to perform the job responsibilities in an effective and ethical manner. Each question on the CTP exam is derived from this Body of Knowledge (click here to see the Table of Contents).
The Exam
Under the guidance of test development professionals, groups of subject matter experts write, edit and approve test questions. These questions, each of which are referenced to a specific section of the CTP BOK, are assembled into exam forms following the test specifications blueprint. Exam forms are validated to ensure they are fair and reliable and hold every candidate to the same standard.