Hire a CTP
The Certified Treasury Professional® (CTP) credential sets the standard in the finance profession and is a global symbol of excellence. Employing CTPs is recognized as a best practice for finance and treasury departments. Organizations faced with critical staffing decisions look at the CTP certification as a way to identify top-level talent. It is also a key differentiator for professionals working in the competitive field of corporate treasury and finance.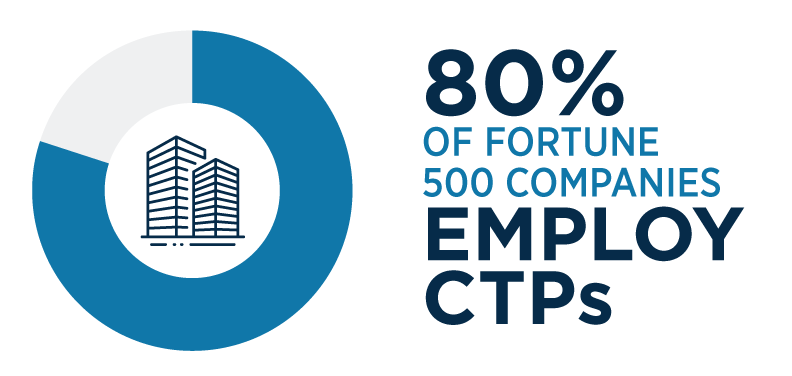 Who's Hiring CTPs?
More than 38,000 professionals in 76 countries have earned the CTP credential. And over 80% of Fortune 500 companies employ CTPs. Hiring managers have acknowledged that holding the CTP designation shows you have the experience, knowledge and work ethic to excel in treasury. Here is a sample of organizations with CTPs on their staff.
Anheuser-Busch
AT&T
Briggs & Stratton Corporation
Cigna
General Electric
Hilton Worldwide
Netflix
Nissan North America
The Sherwin-Williams Company
The Walt Disney Company
Verizon
Washington Post
"I want my team to be certified because it demonstrates that they're life-long learners …With the recertification credits that are needed, it gives them a way to continue their learning, to continue updating what they know and what they can do to improve their jobs."
-Lee-Ann Perkins, CTP | Assistant Treasurer
"As a hiring manager the CTP is one of the first things I look at… Because then I know you have that foundation. You've put in that work to say, okay, this is something I want to do. This is a career for me. There's a difference between people who take jobs and people who are advancing their career. ..when somebody has their CTP, they are a treasury person, and that's what I'm looking for."
- Sherri Speaks, CTP | Assistant Treasurer
"I encourage everyone on my staff these days, and as I develop people, to go out and get their certification. What that means to myself as well as the staff who we work with is that I know they have expertise and are on their game."
- Craig F. Ernhst, CTP | Treasurer
Refer a CTP or Get in Touch
Have someone on your team that you think should be certified? You can refer them with this link and we'll get in touch.
Group pricing is available for two or more individuals from the same organization. For more information please contact Matthew Pfeiffer, or if you are in the Asia-Pacific region contact Himashi Soriano.