Michelle A. Palombo, CTP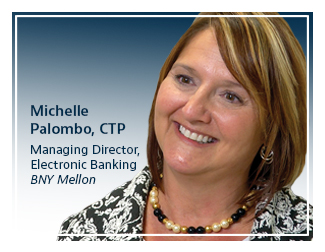 I took a 13-year hiatus when I was raising my children and decided to take the CTP exam when I began working part-time. None of my peers had their CTP, but most of my managers did, and that is where I wanted to go – into management. So at that point, I decided it was important for me to get it.

As a part-time person, you can be looked over at times, so the CTP gave me that extra accreditation and definitely some visibility within the corporation. It showed a commitment on my part to further my career and enhance my knowledge.
Now that I'm a CTP, I've contributed to the Essentials of Treasury Management and had a wonderful experience. I've made some great friends and learned a lot. I made a point to reading the sections of the book where my knowledge wasn't as strong. It helped me become better-rounded in the profession.