Elizabeth R. Crisher, CTP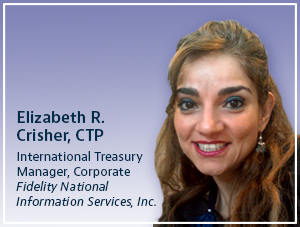 In 2001 I moved to the United States after quitting my job and getting married. The job transition that I believed would've been easy had proved to be very challenging. I was accustomed to a high responsibility and professional seniority position at a foreign Billion-dollar multinational beverage & soft drink enterprise. However, finding similar corporate management employment seemed more as a fantasy dream than a reachable goal. After a pile of rejection postcards, several pitfalls, a desperate pity plead to the city major and dozens of customized versions of professional resumes, the "AHA" moment finally sunk in my brain.

I decided to tackle the missing puzzle piece with a new approach. I realized the problem was not the job hunting or the resume itself, it was to reassure potential American employers that my business degrees and industry expertise were backed by a worldwide recognized credential. So, after a meticulous research and feedback, I confirmed that the CTP credential would be the strategic instrument that would put me back in the game.
Finally, after only 4 months of holding the CTP credential and re-initiating the job hunting, I landed several interviews and a professional job offer was secured within a fortune 500 multinational company. Since then, I have progressively advanced in my career. Currently, I support the Global Treasury Initiative at a leading company in technology worldwide. The CTP credential has been part of my professional career since 2003 and I will keep it until my retirement.